ANNOUNCING THE 2023-24 STCU BEST OF BROADWAY SEASON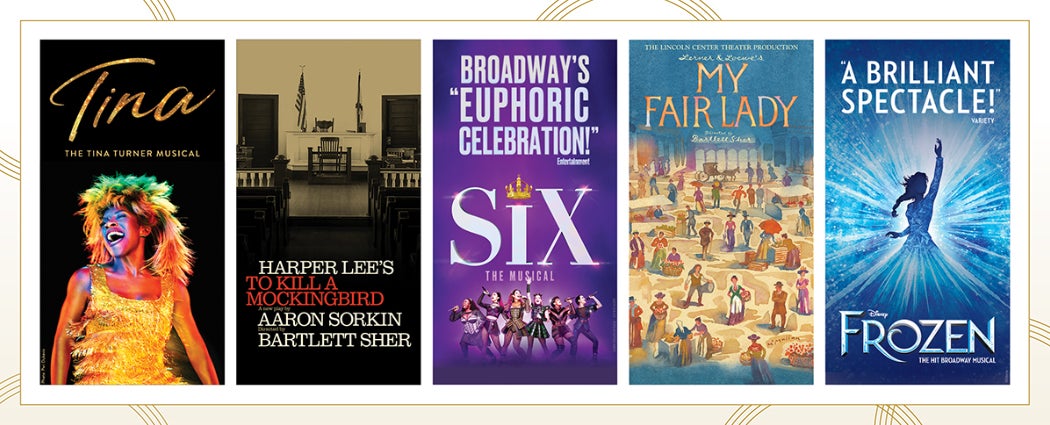 Experience Broadway's Newest Hits, Best-Loved Classics and More!
---
THE 2023-24 SEASON TICKET PACKAGE INCLUDES:
TINA: The Tina Turner Musical - September 19-24, 2023
Harper Lee's TO KILL A MOCKINGBIRD - December 5-10, 2023
SIX - January 23-28, 2024
MY FAIR LADY - April 2-7, 2024
Disney's FROZEN - July 24 - August 4, 2024

ADDITIONAL SPECIAL ENGAGEMENTS:
(Not included in the Season Ticket Package. Season Ticket holders will receive a code for priority access to single tickets after placing season ticket order.)
Dr. Seuss' HOW THE GRINCH STOLE CHRISTMAS! The Musical - November 10-11, 2023
LES MISÉRABLES - November 14-19, 2023
MILLION DOLLAR QUARTET CHRISTMAS - December 23, 2023
STOMP - February 23-24, 2024
MEAN GIRLS - March 5-6, 2024

BEFORE YOU ORDER: Helpful Information about Season Tickets:
When Will I Receive My Tickets?

Orders placed by June 9:
Tickets will be delivered beginning June 19

Orders placed after June 9:
- Season Tickets will be delivered within 2-3 weeks
- Single Tickets will be delivered immediately

What Seats Will I Get?

RENEWING SEASON TICKET HOLDERS receive the same seats and the show day as their current season tickets.

NEW SEASON TICKET HOLDERS are placed in the best available seats in the selected price level after current season ticket holders have renewed. Seats are assigned in the order purchases are received.

How Do I Request Different Seats or Show Days from My Current Season Tickets?

When ordering online, request changes in the Comments section under "Special Requests" before you click the "Add to Cart" button OR Email requests to SeasonTix@BroadwaySpokane.com. Please provide your account number and detailed information that describes the changes you would like.

Requests will be handled in the order they are received. We will do our best to fufill all requests, but cannot guarantee availability.

What is the Price for Season Tickets?

Season Tickets include five award-winning shows at a discounted price!

Prices below are for one seat for 5 shows.

Premium: $445.00 (FULLY SUBSCRIBED)
Price level 2: $392.00
Price level 3: $319.00
Price level 4: $230.00

How Do I Pay in Installments?

Before you click the "Add to Cart" button, choose Season Renewal Bill Plan under "Select Payment Plan". You will be charged 25% when ordering. The balance will be charged to your credit card in three equal payments on July 7, August 4 and September 8, 2023.

When Can I Order Additional Tickets?

Additional tickets for TUESDAY EVENINGS, SATURDAY MATINEES and SPECIAL ENGAGEMENTS may be purchased immediately after ordering season tickets. You will receive a code in your confirmation email that provides advance access to additional tickets.

Additional tickets for SEASON TICKET PERFORMANCE DATES will be available beginning June 20, after seating is confirmed for renewing season ticket holders. Season ticket holders will receive priority access before single tickets go on sale to the public.
TO ORDER SEASON TICKETS:
CURRENT SEASON TICKET HOLDERS:
Renew by Friday, June 9 to keep your current seats or request an upgrade.
Note that we cannot address requests for changes to current seats and show day until after June 9 when renewing ticket holders have been seated. See "How Can I Change My Current Seats" above.
NEW SEASON TICKET ORDERS:
Order early for the best selection of seats and dates.
Last day to book the five-show package: August 31, 2023.

Your ticket purchase reserves your seats for the entire season. All sales are final. No refunds will be issued.
For answers to many commonly asked questions, please read "Helpful Information about Season Tickets" above.
PURCHASE ONLINE:
Select a button below to complete your order quickly and securely -- any time, any day!
ADDITIONAL CUSTOMER SERVICE:
Spokane Arena Box Office: 720 W Mallon, 11am-5pm weekdays
First Interstate Center for the Arts Box Office: 334 W Spokane Falls Blvd, performance days only, 10am to show time
FOR QUESTIONS NOT ANSWERED ABOVE:
If you do not see an answer to your question in "Helpful Information about Season Tickets" above:
Please email SeasonTix@BroadwaySpokane.com or call 509.351.4651, (Monday-Friday, 10:00AM - 4:00PM)
Our ticket staff are assisting a high volume of customers. Allow up to 3-5 business days for a response.
Wednesday Evenings, 7:30PM

Tina: September 20, 2023
To Kill A Mockingbird: December 6, 2023
Six: January 24, 2024
My Fair Lady: April 3, 2024
Disney's Frozen: July 24, 2024

Thursday Evenings, 7:30PM

Tina: September 21, 2023
To Kill A Mockingbird: December 7, 2023
Six: January 25, 2024
My Fair Lady: April 4, 2024
Disney's Frozen: July 25, 2024

Friday Evenings, 7:30PM

Tina: September 22, 2023
To Kill A Mockingbird: December 8, 2023
Six: January 26, 2024
My Fair Lady: April 5, 2024
Disney's Frozen: July 26, 2024

Saturday Evenings, 7:30PM

Tina: September 23, 2023
To Kill A Mockingbird: December 9, 2023
Six: January 27, 2024
My Fair Lady: April 6, 2024 (performance time 8:00PM)
Disney's Frozen: July 27, 2024

Sunday Matinees, 1:00PM

Tina: September 24, 2023
To Kill A Mockingbird: December 10, 2023
Six: January 28, 2024
My Fair Lady: April 7, 2024
Disney's Frozen: July 28, 2024

Sunday Evenings, 6:30PM

Tina: September 24, 2023
To Kill A Mockingbird: December 10, 2023
Six: January 28, 2024
My Fair Lady: April 7, 2024 (performance time 7:30PM)
Disney's Frozen: July 28, 2024