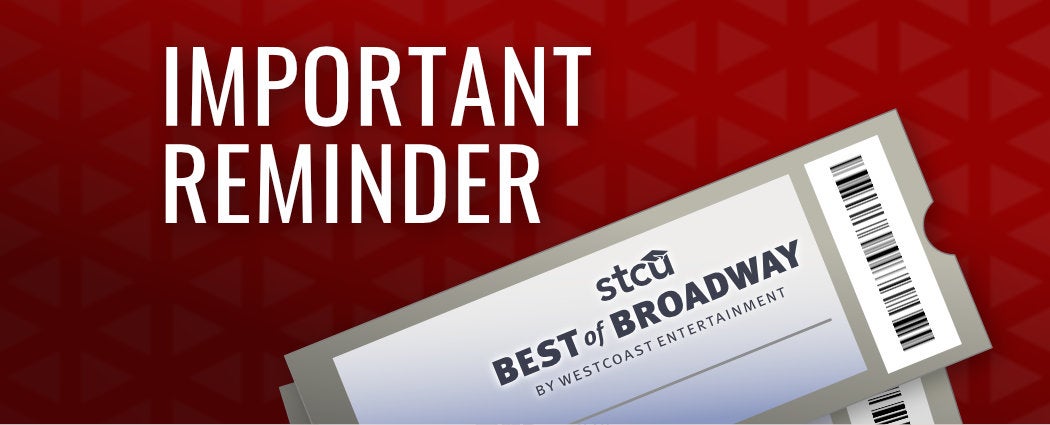 Dec

6

, 2021
Why Buy from Authorized Ticket Sellers?
Be sure you're buying authentic theater tickets at fair prices.
When you shop online for most things, you can find deals by comparing prices on different websites. But if you're buying theatre tickets online, use caution! Unauthorized online sellers make lots of money every year selling overpriced tickets for events right here in Spokane.
It's easy to be misled by unauthorized ticket resellers. Links to their websites appear at the top of search pages. Sites use official logos and photos from shows. Site names sound similar to local venues and performing arts groups. Sites may even promise guarantees. But buyer beware -- those overpriced tickets probably won't get you the seats you want, and may not even get you inside the theater!
The good news is, it's easy to be sure you're buying valid tickets at the best prices. For Broadway shows in Spokane, always go to BroadwaySpokane.com or TicketsWest.com to purchase tickets online. The First Interstate Center for the Arts and season sponsors including STCU, The Inlander, and Visit Spokane will always link to one of those two authorized ticketing sites from their websites. (Note that actual ticket-purchasing pages may begin with the URL https://broadwayspokane.evenue.net/ in the address bar of your browser)
If you follow a link from an ad, event listing, or social media post, and you're not sure you've landed in the right place, here are a few clues to watch out for:
Can you select specific seats? For most performances, BroadwaySpokane.com and TicketsWest.com will allow you to select the exact seats you want, subject to availability. Reseller sites offer a choice of sections and rows, but usually not a choice of specific seat numbers.
Are tickets listed for hundreds and even thousands of dollars? Scroll through the price options. If the top prices for a single ticket go above a few hundred dollars (and even up to $1500 or more!), you're probably on a site that's taking advantage of unsuspecting buyers.
What's in the "fine print"? Take a little time to look around the website. Look for terms like "resale marketplace," "third-party seller," and "above face value." If a guarantee is offered, watch for language that says, "if we cannot send the tickets you ordered" or "we will send the equivalent." If you see such phrases, or if you can't find an address for a local office or physical box office, leave the webpage and start over at an authorized site.
Buying tickets from a third-party reseller could result in more headaches than just overpaying:
If a performance is canceled or rescheduled, you may not be notified.

The WestCoast Entertainment ticket office will have no record of your purchase from a third-party seller and will not be able to replace lost or stolen tickets.

Resellers hope their software ("bots") will be able to secure a ticket electronically to fulfill your order. They even sell tickets before a show has officially gone on sale -- tickets they don't actually have. If a reseller can't get tickets for the date, seat or section they've promised, it's possible you'll miss the show and lose your money with little or no recourse.
Not all resellers are out to take advantage. Some sites allow patrons to sell tickets they're not able to use. Some performing groups contract with third parties to sell tickets so they don't have to staff a box office.
Buying tickets online doesn't need to be complicated, confusing, or risky. For Broadway touring productions in Spokane, just remember to purchase tickets directly through WestCoast Entertainment at BroadwaySpokane.com, our authorized ticketing partner, TicketsWest.com or the performance venue, FirstInterstateCenter.org. Take a moment to verify you're on an official site before you click the "Buy" button!
If you have questions about tickets or shows in the STCU Best of Broadway series, contact the WestCoast Entertainment Ticketing Department