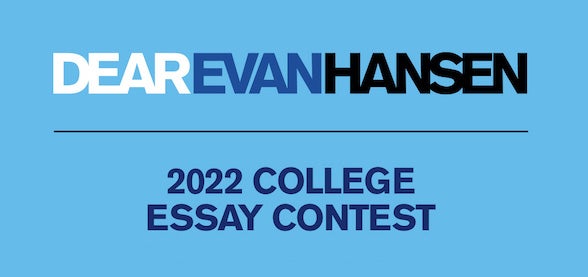 Apr

11

, 2022
Dear Evan Hansen College Essay Writing Challenge 2022
Dear Evan Hansen, the Broadway Education Alliance, and Gotham Writers invite 11th-grade and 12th-grade students across North America to write a college-application style essay describing your experiences with or ideas about reinvention.
The Broadway musical explores the theme of reinvention across generations – for young people coming of age, and for the adults in their lives who are still figuring themselves out, as well. As Heidi Hansen says to her son, Evan, "College is going to be so great for you… how many times in life do you get the chance to just… start all over again?"
Have you ever had the chance to reinvent yourself? As you look ahead to life after high school, will you introduce a whole new you to a fresh community, or further shape the best version of yourself?
Entries will be judged by a panel of writers and cross-industry professionals. One winner will receive a $10,000 college scholarship sponsored by Stacey Mindich, lead producer of Dear Evan Hansen, and a free class with Gotham Writers. Five regional finalists will each receive a $1,000 scholarship.
You can read (and watch) the essays by the 2021 winner and finalists here.
Students from North America who are in 11th or 12th grades are eligible to enter.
Entries should be 650 words or less.
There is no entry fee.
Deadline: 11:59 p.m. ET on Monday, May 9th, 2022.
For additional information and to submit entries, visit the Gotham Writers website.