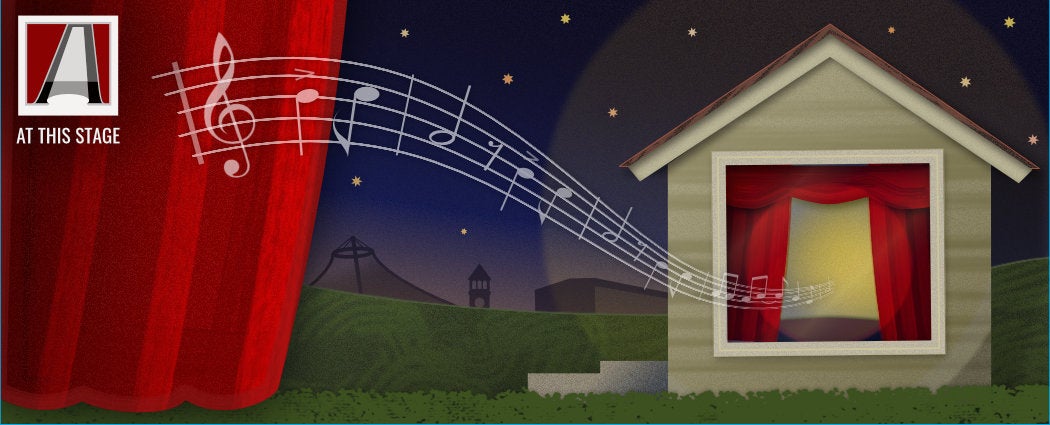 Nov

23

, 2020
Broadway in Spokane: At Home
Picture yourself in your seat at the theater...
The lights dim. The orchestra starts to play. Actors step onstage...
Missing the thrill of seeing a live Broadway tour? We are too! It's only a matter of time before WestCoast Entertainment brings Broadway tours back to Spokane, but while we all wait, remember this:
Occasions are special when you make them special. With some imagination and a little planning, you can create your own memorable night of Broadway at home!
Here's how:
BUILD ANTICIPATION
Pick a date and put "Musical Theatre Night" on your calendar. Save the date for an enjoyable, out-of-the-ordinary evening to look forward to.
Choose a show in advance. List a few musicals you've always wanted to see or a favorite movie musical to watch again. Whatever's on your list, there's a good chance you can find it to watch for free or just a few dollars. Great places to browse for ideas include:

Spokane Public Library: DVDs you can put on hold to pick up at the branch of your choice.
BroadwayHD.com: A free trial or inexpensive monthly subscription gives you access to filmed musicals, plays, and more.
With a monthly membership or trial, popular streaming services such as Netflix, Hulu, and Amazon Prime offer a variety of movie musicals, filmed stage performances, and an increasing selection of newly produced musicals on film.

Add a few creative touches, especially if you're planning to share the evening with your family or significant other. Use the suggestions below or think of your own, but don't skip this step. A few creative extras will help you break away from everyday routines and will provide mementos of the time you share together.

Make simple tickets with the date, time, and show title. (Use this template to print and fill in show information by hand). Display your tickets in a place you'll see each day to remind you about your special evening coming up.

Search online for a plot summary and a few pictures from the show you've selected. Copy and paste into a simple one-page document to print as playbills.
Involve kids and other family members to expand these ideas into fun projects to do together -- show posters, theater decor, or a pre-show welcome speech, for example. If you have aspiring young writers in the family, encourage them to take a few notes and write a review of the show for the rest of the family to read.
MAKE SHOW NIGHT MEMORABLE
Start with a special dinner. Any event is more enjoyable when you take time beforehand to slow down from the day's activities. Many locally owned Spokane restaurants, including your favorite pre-show eateries, offer curbside pickup or delivery. The searchable To-Go Guide from The Inlander is full of ideas. Or check out the menus at three restaurants currently offering takeout at River Park Square: Twigs, P.F. Chang's, Cosmic Cowboy Grill's.
Create the ambience for a special-occasion. Don't just settle for takeout on the couch!

Consider setting the table for dinner and conversation before your show. Remember to hand out the tickets you made!

If you prefer to dine during the show, set up TV trays, drink refills, and a side table to clear plates for distraction-free viewing. Arrange your TV or computer, seating, and lighting to focus on the screen while encouraging interaction between the people you'll be sharing the show with.

Check light, sound and temperature levels, then close off your viewing space before the show. Fix beverages, then enter the area (with your tickets!) 5 to 10 minutes before starting your program. Admire your homemade playbills and chat for a few minutes about what you're looking forward to seeing.

Schedule an intermission. Most plays and movies have a natural break about half way through. Watch without distractions until that point, then pause your show. Stand up, step outside, and comment on what you've especially enjoyed so far. Don't forget treats! Plan ahead to pick up some snacks and beverages from a local cafe, bakery, or deli. Rosauers has many tempting selections. Treat yourself to something different to make the occasion memorable.
Take pictures to remember the evening and share with friends. Before you start the second half of the show, take a few pictures in your "theater" with the tickets and playbills you've made. Post on Facebook or Instagram with hashtag #BroadwayAtHome and @BroadwaySpokane so we can share your pics with other Spokane-area Broadway fans!
SAVOR THE MOMENT
Keep the entire night focused on your special event. When the show is over, don't shift directly into channel surfing and late-night news. Take a stroll around the block while melodies from the show are playing in your head. Hum a few tunes and share a laugh over your favorite lines. Talk about shows you'd like to see next and set the date for your next show night to look forward to!
Until we can all enjoy Broadway entertainment again in downtown Spokane, don't put meaningful activities on hold for "someday when". Create your own special occasion to make the most of now.
---
Let us know about your Broadway night! Follow @BroadwaySpokane on Facebook, Instagram, and Twitter to share your pictures and ideas
Enjoy the best of Broadway Musicals, Plays, Concerts, and More.
For the latest performance information plus ideas, activities, and entertainment news, sign up for the WestCoast Entertainment Newsletter.