Become a season ticket holder and enjoy the perks!
Manage Your Account Online

For easy exchanges, to reprint lost tickets, or to purchase additional tickets, log in to your account here.
New! Dining Discount

STCU Best of Broadway season ticket holders receive special offers from select restaurants. On your performance date, simply show your STCU Best of Broadway Season Ticket ID Card and ticket stub. Visit our Nearby Restaurants page to view participating restaurants and offers.


Look for the plate and utensils image to view participating restaurants. Restaurants and offers subject to change. All offers must be redeemed on the same day as the ticket stub show date. No substitutions. One offer per visit per account. Cannot be combined with any other offer.
Exchange Tickets

As a season ticket holder, you can exchange your tickets for a different date or time of the same show. You may also upgrade your seat location for individual shows.

Example: Exchange your Friday ticket for COME FROM AWAY to the Wednesday performance of COME FROM AWAY.
Exchanges and upgrades must be made no later than 72 hours prior to performance date on your original tickets. A price difference may apply when exchanging tickets for a non-season ticket performance or a different price level. Exchanges can only be made after you receive your season tickets in the mail.
To exchange tickets: Call the Season Ticket Office, Mon-Fri 9am-5pm, 509.818.3438, or exchange tickets easily and conveniently through your online account.
Make a Show Swap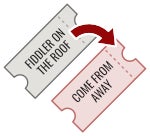 Once in each season, you may swap tickets from one show to another show in the current series. Swap any show for your choice of most shows in the STCU Best of Broadway series and special Broadway engagements.

Seating for swaps is subject to availability. To ensure the best seating, we ask that swaps be made as early as possible. Swaps may not be made for past or missed performances.

HAMILTON is not eligible for a show swap. Cost difference may apply. One swap per season. No refunds. Deadlines and other restrictions may apply. Season tickets must be received in the mail prior to swapping. Swaps must be for shows in the same season — shows rescheduled from past seasons cannot be swapped for shows in new seasons.
To request a show swap: Call the Season Ticket Office, Mon-Fri 9am-5pm, 509.818.3438.
Payment Plans
Interest-free monthly payment plans are available only to season ticket holders. Pay 25% of your total order at the time of purchase, and three remaining monthly payments at 25% of your total order each. To set up a payment plan: Call the season ticket office, Monday-Friday 9am-5pm, 509.818.3438.
Receive Savings and Early Access for Additional Tickets and Shows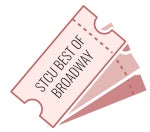 In addition to your discounted season ticket package, you also receive early access to all special engagements. Bonus! As a season ticket holder, you don't pay fees on any additional tickets purchased -- watch for your online promo code in season ticket materials mailed with tickets!
Please note: Each season ticket account is limited to a total of 9 additional Hamilton tickets. This includes tickets purchased across multiple performances.
Concierge Services
We are currently working from home offices and are available to assist you by phone or email. Please don't hesitate to contact us!
Exclusive season-ticket-holder access to the Season Ticket Office for in-person service!
Email:

[email protected]

Phone: 509.818.3438
WestCoast Entertainment Office Location
421 W. Main Ave., Suite 200
Spokane, WA 99201
Regular Hours: Monday - Friday, 9:00am - 5:00pm PST