2019-2020 SEASON TICKETS ON SALE NOW
BUY SEASON TICKETS

Including some of Broadway's most popular national tours, the new STCU Best of Broadway season includes a dynamic array of titles and on-stage experiences for Spokane audiences to enjoy! Season tickets include five incredible productions, special perks and benefits, and discounted pricing.
Season tickets include MISS SAIGON, the most epic love story of our time, JESUS CHRIST SUPERSTAR, an iconic phenomenon, ESCAPE TO MARGARITAVILLE, featuring Jimmy Buffett's most loved classics, JERSEY BOYS, the behind-the-scenes true story of Frankie Valli and the Four Seasons, and MEAN GIRLS, the hilarious hit musical from writer Tina Fey.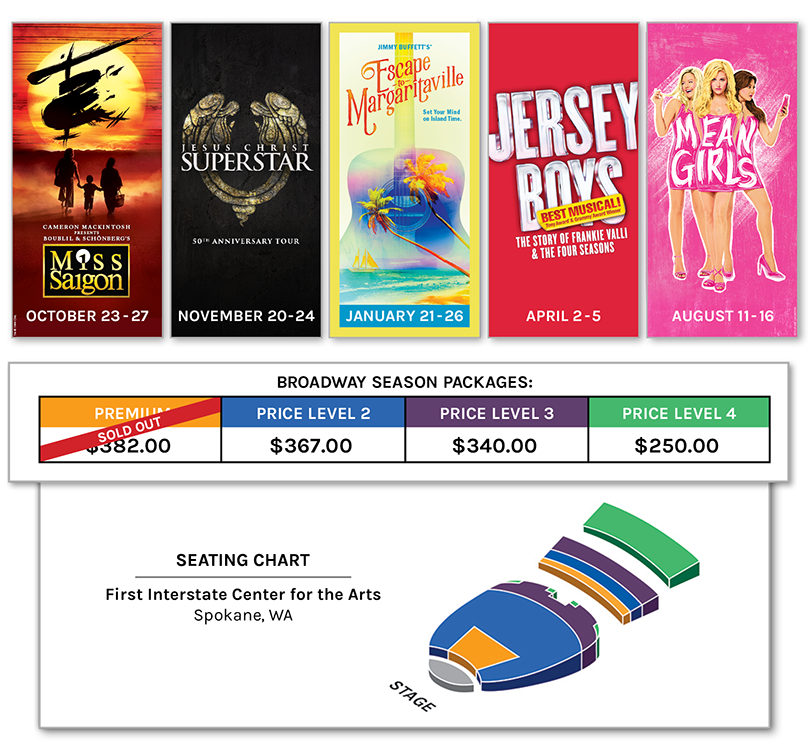 THREE WAYS TO PURCHASE:
Online: Buy Now
By Phone: 800.843.4667
In Person:
TicketsWest Box Office
720 W. Mallon Ave., Spokane, WA 99201
Regular Office Hours: Monday-Friday, 10:00am - 6:00pm
WestCoast Entertainment Office
421 W. Main St., Spokane, WA 99201
Regular Office Hours: Monday - Friday, 8:00am - 5:00pm
Have questions? Email us at [email protected].
Season tickets will be available until October 18.
HAMILTON: Coming 2020-2021

THE BEST WAY TO GUARANTEE HAMILTON SEATS.

Hamilton is coming to Spokane as a part of the 2020-2021 season! Season ticket holders from the 2019-2020 season will have first access to Hamilton tickets when renewing their season package for the 2020-2021 season.

Benefits & Perks

Become a season ticket holder and enjoy the following perks!

SHOW SWAP
Season ticket holders receive one opportunity per-season to "SHOW SWAP" tickets from one engagement to another within the same season.

No refunds. Cost difference may apply. Deadline for a show swap is Friday, October 11, 2019. One swap per season.

BEST SEATING
Season ticket holders receive the best available seats and opportunities to upgrade seat locations throughout the season. Improve your seats each season by renewing and building seniority.

PRICING
Season packages are discounted. Plus, add on any special engagement or additional tickets to subscription engagement and avoid per-ticket fees.

PAYMENT PLANS
Interest free monthly payment plans are only available to season ticket holders. Pay 25% of your total order at the time of purchase, and three following monthly payments at 25% of your total order each.

PRIORITY PURCHASE
Receive early access or special seating to all special engagements added to the season throughout the year.

FLEXIBILITY & EXCHANGES
Season ticket holders may exchange tickets to any performance within the same engagement. (Example: Exchange Tuesday night tickets for Friday night tickets at Mean Girls).

CONCIERGE SERVICES
Direct access to the season ticket office for in-person service.

Email:

[email protected]

Phone: 509.818.3438
WestCoast Entertainment Office Location
421 W. Main Ave., Suite 200, Spokane, WA 99201

Regular Hours: Monday - Friday, 8:00am - 5:00pm
Hours may vary during performance weeks. Do not hesitate to call before stopping by!
2019-2020 PACKAGE OPTIONS